JeeNode/HAHnode Digital Inputs
28 February, 2012 - 22:19
I have created a pic which shows the I/O allocation on a JeeNode or HAHnode for the different sketches supported by the Plugboard/LUA/JeenodeApplet.lua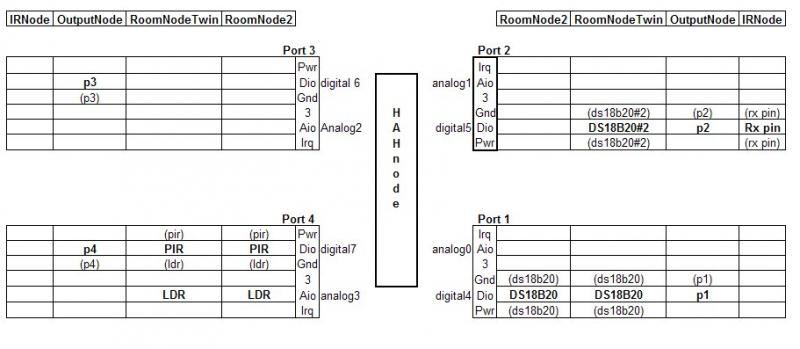 RFM12B wireless at the bottom, FTDI at the top
(of course let me know if I have got the inputs wrong)
Would it be possible to include a new 'digin' type of input for the RoomNode2 sketch? As you can see port 3 digin is not used in either the RoomNode2 or RoomNodeTwin sketches and port 2 digin is also available in RoomNode2 only.
I would use this for things like magnetic door/window contacts, and perhaps a pushbutton or a water leak detection. It seems odd not to have generic digital input support.
I can see how the sketches link to the serial and then to the JeeNodeApplet but after that I get completely lost in the supporting LUA
If you think this is a good idea I can add it to googlecode as an enhamcement request
Thanks
kevint
29 February, 2012 - 00:31
#1
Well you could repurpose the
Well you could repurpose the existing PIR pin. Unless of course you want PIR and another input.
Here is the problem. If I upgrade the AVR C code and the Decoder to match, unless all those people who have the HAHNode deployed reflash EVERY node then there is a possibiliy that the decoder will not match the received datastream.
Consider what happens if you have version 1 of the AVR roomNode and then you upgrade the LUA decoder backend to version 2 things gets ugly.
This is the reason I created RoomNodeTwin instead of just upgrading the RoomNode2 and Decoder backend. Had I not done this if you did a HAH upgrade you'd get NEW decoders for OLD transmitters. Its a bit of a problem for sure as it requires that you get it RIGHT first time and never change it. So adding a new sensor pin would require a new Decoder and a New Transmitter sketch to avoid messing up existing installations.
The drawing is good that looks about right to me.
I did try to document the jeenode/LUA stuff pretty well but it is a little complex to get your head around. If you indicate what is not clear I can try to amend the documentation.
Brett