Mounting SMA connector to RF board
20 December, 2011 - 15:39
Hi Derek,
Recieved the Long range external antenna from the shop and I was wondering about the best way of 'tweaking' the board to accomodate the connector, alternatively I would prefer to mount the connector to the shell of the Livebox but in doing so I would need to extend the connection from the RF board to the socket - is this advisable?
Thanks
David
20 December, 2011 - 16:35
#1
RF Pigtail
Hi David,
The connector that is supplied with the external antenna is designed to fit directly onto the RF module board (I simply snipped off three of the four mounting pegs and enlarged the 'ant' connection hole on the PCB to fit the middle pin on the RF connector. However, i run my HAH 'case off'. This style of fitting isn't ideal if you intend to close the case again.
What you need is a 'pigtail' conncetor. This comes pre-wired and heatshrunk (at the SMA end) and will mount onto a suitably placed hole in the side of the HAH enclosure. Just ensure that there is both a ground connection and the 'ant' connection on the pigtail.
So, I'll create another item on the shop for this 'pigtail' and will send one on to you by way of thanks for pointing this out.
Derek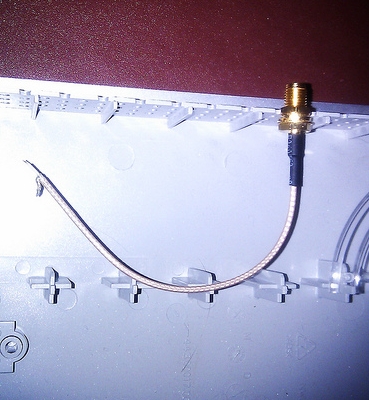 20 December, 2011 - 17:07
#3
RF Pigtail
Yes, this Gnd point is just fine. You might have to strip back the pigtail shield wire a bit ... I'll pop in a short length of heatshrink to help with attaching this without any shorting.
Derek.
26 December, 2011 - 17:38
#5
Nice work
The pigtail part looks to be a good fit. If it's OK with you, I'll include your image on the wiki as an exemplar of how to fit the antenna connector.
I'll chat with Brett re the 'more than one item' issue that you are seeing.
Cheers,
Derek.